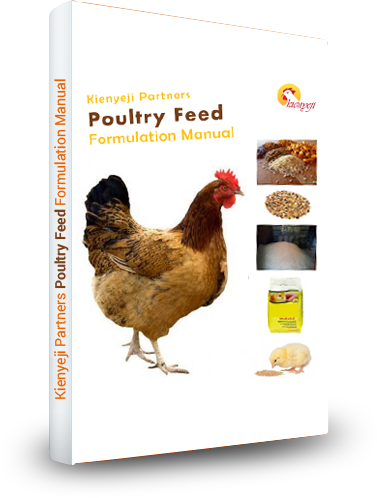 Order Your Kienyeji Manual Now!
Welcome to Our Improved
Kienyeji Chicken Farming Manual
Did you know that you can save up to 65% on chicken feeding costs if you learn how to formulate your own chicken feeds? You could even formulate feed and resell to the market once you have mastered how to do it from our comprehensive manual on chicken feed formulation. This booklet gives you tips on poultry feeding and nutrition and more importantly how to make poultry feeds that is rich in nutrients aordably for the farmer seeking greater pro!ts and "uality chicken and chicken products.
The feed formulae provided here can be used to formulate feeds not just for Kienyeji chicken but also for the eotic layers and broilers. farmers who buy the booklet will also get a free phone consultation service as they formulate their feeds. Additional training can be provided at individual level or to farmer groups at a small cost.
The Poultry feed formulation Manual covers the following topics :-
Poultry nutrition general information: feed ingredients and additives
Energy and nutrients for your poultry
Protein feeding Requirements for your poultry
Vitamins for your poultry
Feeding programs for broilers
Feeding program for replacement pullets
Feeding Program for laying hens
Nutrient Requirements for your poultry
Chicken Feeds: Chick Mash
Chicken Feeds: Growers Mash
Chicken Feeds: Layers Mash
Feeding Regime for Different Ages of Chicken
Principles of Poultry Nutrition
Formulating a Tonne of layers mash
Formulating a Tonne of Growers mash
Formulating a Tonne of Chick Mash
Additional Poultry Formulation Notes
For orders of the Poultry Feed Formulation Manual,please call
0711417887
Or Email
improvedkienyeji@gmail.com
The manual goes for Ksh.500.